Information for home sellers
Pricing Your Property:
 Proper pricing is the single most important decision in selling your home. A realistic price point makes your home competitive to more qualified buyers. Since buyers will look at several homes before making a decision a house that is overpriced will be immediately noticeable. Factors that are taken into consideration when pricing a home are: location, size, style, condition, updates, upgrades and neighbourhood amenities.
Determine Your Property Value:
 The current market determines the value of your home. A Comparative Market Analysis (CMA) is an indicator of what today's buyers are willing to pay for a home in your neighbourhood. Ask us to prepare one for you and explain how it helps to determine a price for the sale of your home.

CMA (Market Analysis): We will come to your home and do a free market analysis of your home. This includes showing you recent sales of similar homes in your neighbourhood, as well as your current competition. Based on these market statistics, and viewing the style and interior of your home, we will determine our best opinion of a listing price for you.
Online Presence: We at Home Love Hamilton are very present online, we are active on many social media platforms, check us out! We are also part of both the Hamilton-Burlington and Brantford real estate boards. This allows us to have access to many different areas listings around the golden horseshoe, but it also allows our listings to be exposed to more potential buyers who have agents outside of your local board. Lastly, since we are part of these boards our listings filter down from the agent/board database onto websites such as REALTOR.ca, royallepage.ca, homelovehamilton.com and other subsidiary websites. To conclude, we will promote your listing online on our social media platforms as well as through our agent/board networks.
Open Houses: Our team will host both real estate agent and public open houses periodically until it sells! This includes signage, newspaper ads and of course the open house itself.
Our Brand: The Home Love Hamilton brand is trying to portray home selling with a friendly and warm attitude. Home sales aren't a business for most and we try to make that experience a pleasant one. See below for some items that are unique to us, and and what are extensions of our brand.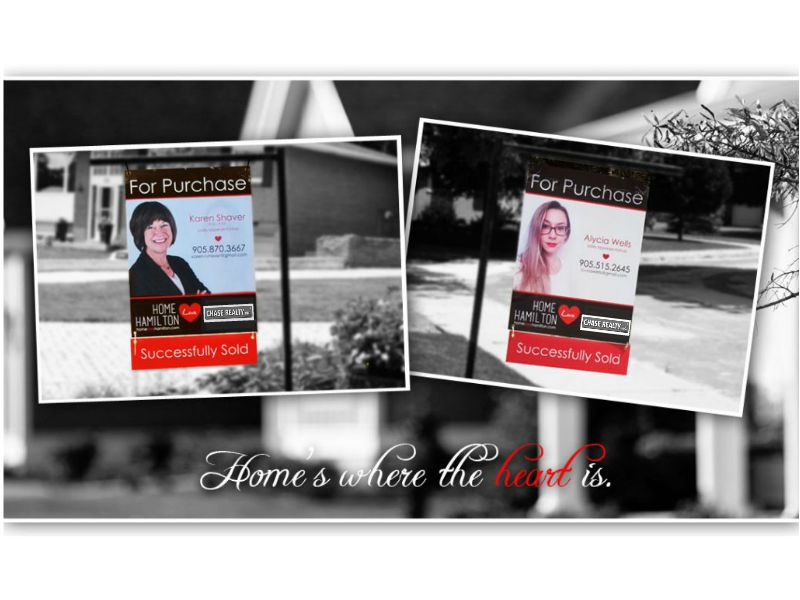 Our Signs: We have moved away from the traditional "For Sale" sign and replaced it with "For Purchase". We feel that this tells the buyer that your home is available for purchase, as opposed to "for sale" which, to us, typically indicates a discount in the marketplace. We want our signage to be a symbol of the sellers goals to the buyer. We have also added "Successfully" to our sold rider so as to leave some positive messaging behind as a reminder, of the relief, of your home being sold.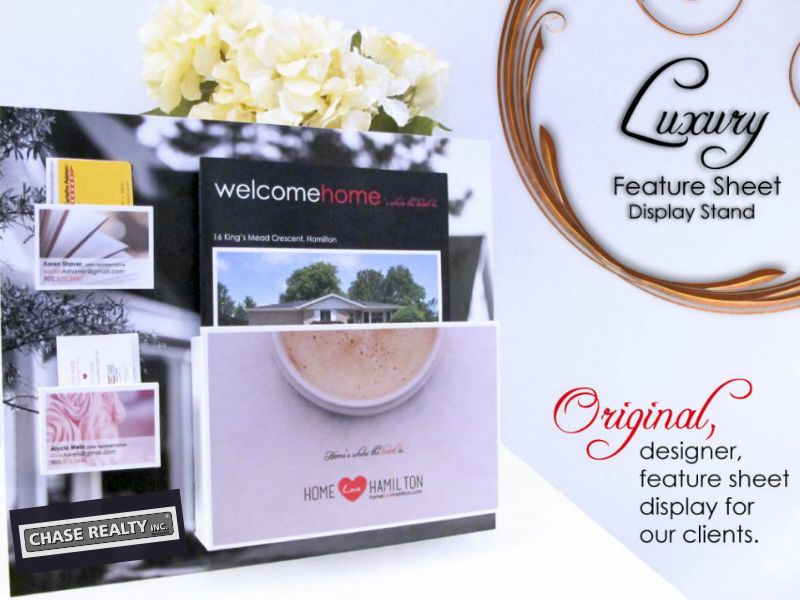 Feature Sheets and Display: Our feature sheet display stand is an original creation by Alycia Wells of Home Love Hamilton. This sleek design allows our clients to have a visually appealing piece in their home that is also functional. It neatly holds the feature sheets, visiting agents business cards and ours too. You can easily move it around your home, so you can decide when it's displayed and where at any time without it being a hassle. We found that feature sheet displays tend to take us lots of space and can be messy, this stand solves all that. It's a beautiful display with almost no maintenance, just put the cards and/or feature sheets in the right pockets and your ready to show!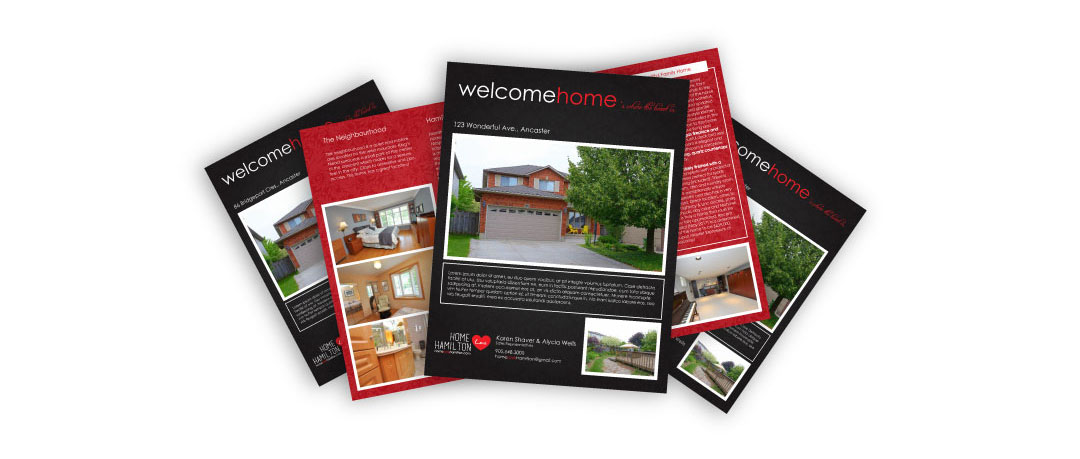 Our feature sheets come in two styles of the "Welcome Home's where the heart is" style. An eight and a half by eleven, double sided or eleven by seventeen middle fold pamphlet style. Displays photos and information about your home for buyers to take with them after visiting.